About ACDC Express
FASTEST GROWING ELECTRICAL RETAIL FRANCHISE
ACDC Express is an electrical retail franchise, specialising in everything electrical. Established in 2007, our core focus is to provide customers with quality electrical solutions. We offer a full turn-key solution and a unique concept store that provides customers with a convenient and versatile shopping experience, allowing customers to browse at leisure in what is effectively an electrical 'supermarket'. In addition, ACDC Express actively participates in adding value to the customers by not only meeting customer expectations through superior customer service, but continuously offering excellent after sale service.
Our independently owned stores are primarily supplied by ACDC Dynamics, which boasts a product range of over 80 000 individual items. These products are crucial in daily operations within the home, office and factory. This automatically creates a great and continuous demand for these products.The growth and success of the ACDC Express Franchise Group is attributed to 2 basic principles, which form the cornerstone of the business: Customer Relationship Management and maximising business efficiency.
This unique franchise is able to offer customers over 80 000 electrical products, enabling you to sufficiently cater for the Household (DIY), Industrial, Agricultural, Mining, and Manufacturing markets. When purchasing an ACDC Express store you will be provided with a full turn-key solution, including total marketing and operational support. This will easily enable you to run your own successful business. The products sold by ACDC Express stores are crucial in the everyday life of the home, office and factory. This automatically creates a great demand for your products.
Our Vision
To be the preferred electrical retailer.
Our Mission
To be the best solutions driven electrical retailer. Focused on customer service and convenience to ensure electrical needs are satisfied.
Want to know more about ACDC Express? Click here to read the company profile.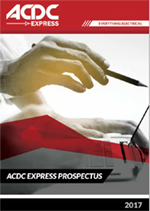 Need more information about being a franchisee? Click here to read the ACDC Express prospectus.
Meet the ACDC Express team
MORNE COETZEE
GENERAL MANAGER
NICHOLAS DA SILVA
FRANCHISE SERVICE CONSULTANT
CHEVAUGHN HOLMES
MARKETING COORDINATOR
MICEALA VAN ZYL
PERSONAL ASSISTANT
RUDEAN ABDUL
FRANCHISE SERVICE CONSULTANT
ASHELY WALTON
MARKETING ASSISTANT
JUAN BEDFORD
OPERATIONS MANAGER
MARK KRONENBURG
MARKETING OFFICER